Has all the noise about electric distracted the sector from a more urgent and immediate skills issue?

New IMI TechSafe Report identifies current dangerous shortfall in technicians qualified to work on vehicles with ADAS - presenting a real road safety risk
The Institute of the Motor Industry (IMI) estimates that by the end of 2023, at least one in ten cars on UK roads will feature Level 2 autonomy, growing to almost half of the car parc by 2030[i]. However, according to its latest data - ADAS TechSafe Technician Forecasts - there are currently only around 3,500 ADAS-qualified technicians in the UK, leaving a void right now of some 18,000 technicians to meet the current ADAS requirement.
Steve Nash, CEO of the IMI believes all the noise about EV could well have distracted the sector – and government – from this more urgent and immediate need.
"Adapting a workforce to meet the rapidly evolving needs of an increasingly advanced car parc is no mean feat and certainly there has been plenty of focus on getting ready for EV. However, at the IMI we fear this could actually mean the sector has taken its eye off the ball in relation to upskilling for ADAS. This technology is already present in vehicles on UK roads. But with only 3,500 technicians ADAS qualified there's a real risk that repairs and recalibration is taking place without the proper skills – and that is a serious risk to road safety."
The IMI believes this skills gap could create a postcode lottery when it comes to finding a qualified technician. And this may force motorists to resort to using garages that do not have the right equipment or qualified technicians to repair and recalibrate Advanced Driver Assistance Systems properly, with potentially dangerous consequences.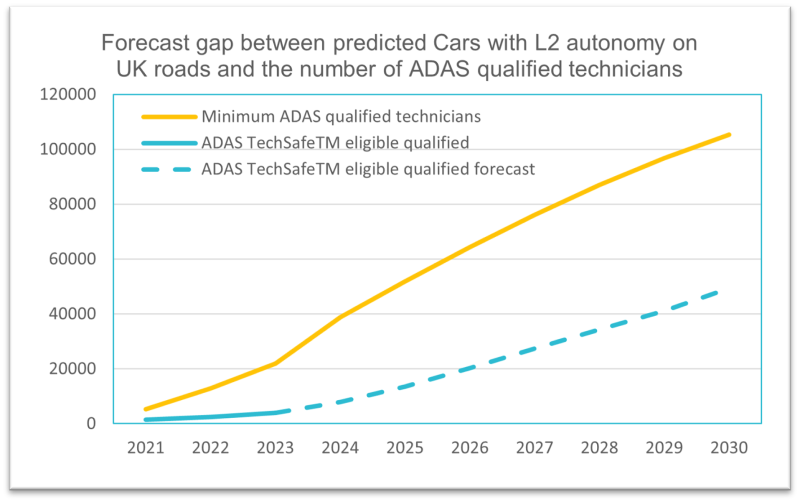 The void in ADAS qualified technicians also highlights a lack of focus on training by aftermarket businesses for this safety-critical technology, despite the considerable earning potential it offers.
"We understand that high vacancy rates and ongoing economic pressures are making investment in additional training more difficult for businesses", continued Steve Nash. "However, futureproofing the workforce is essential for continued profitability as well as road safety."
ADAS technology focuses on increasing safety and convenience, without taking full control away from the driver. Systems such as lane assist, adaptive cruise control and self-parking allow the vehicle to control steering, acceleration and braking. Problems with the electronics, sensors and software within these vital systems could lead to serious safety breaches or even collisions, which could be highly dangerous at speed on a motorway. Proper maintenance and regular servicing are essential to keep drivers and other road users safe.
The increased use of Advanced Driver Assistance Systems (ADAS) is also a vital part of the journey towards fully autonomous vehicles which should make roads safer. However, if such complex technology is not supported correctly by a technician with the relevant and up to date training, it could instead lead to catastrophic collisions.
"Maintaining modern, high-tech vehicles is a matter of life and death, so a shortage of suitably trained technicians is nothing short of a crisis, particularly when you consider the government's stated ambitions for autonomous vehicles", concluded Steve Nash. "It is imperative, therefore, that all relevant stakeholders – including government - acknowledge the profound economic and road safety repercussions of the prevailing skills gap. We need to work collaboratively to see more technicians gain the necessary qualifications to protect the industry and road users as we move towards an exciting future of autonomous driving."
The IMI launched Level 2 and Level 3 ADAS qualifications in 2022. The IMI TechSafe recognition program provides independent assessment and recognition of the technical competence of technicians working in the UK automotive sector. IMI TechSafe identifies a member's professionalism and safe working practice in the field of electric vehicles (EV) and other safety-critical vehicle systems such as Autonomous or Advanced Driver Assistance Systems (ADAS).
Want to learn more about IMI TechSafe?
---
[i] With EU regulation mandating all newly produced vehicles from July 2022 onward incorporate several safety components, including Level 2 autonomy such as lane centring and adaptive cruise control, the IMI forecasts 44% of the UK car parc will have Level 2 autonomy by 2030.