The day I escaped lockdown and toured the Highlands

YouTube motovlogger Kate Ralph (aka "Username Kate") recounts how she headed north after months of restrictions and had an adventure on two wheels
International travel has never felt so difficult. So, desperate for a bit of an escape without leaving the UK, my partner Mike and I decided that we should explore bonny Scotland on our motorbikes and see what it had to offer.
Scotland has long been a Mecca for bikers, with the famed NC500 route around the northernmost reaches of the Highlands having become something of a bucket list ride for many.
I was planning on tackling this trip on my 2016 BMW R1200 GS TE. But since Mike didn't have anything quite as comfortable in his collection to help him soak up the miles, I reached out to BMW UK, who kindly lent him a top-spec 2021 R1250 GS TE.
Suitably kitted out, we kicked things of with a teaser video on my YouTube channel. However, more than a few people raised an eyebrow about the plan we had put in place for the first day: 420 miles from Manchester to Gairloch on the north-western coast of Scotland.
We'd booked our hotel in Gairloch in advance, so we'd committed to that very long stretch. I was confident we'd be able to handle it, but I can't lie – the critics had planted a small seed of doubt.
The GS munched the miles effortlessly during the three hours on the motorway, and the further 4.5 hours to the hotel certainly didn't feel like a chore on roads that were gloriously twisty and flowing. Of course, we made sure to take some pit stops along the way to enjoy the scenery, particularly as we travelled up through Fort William and Glencoe. The views at Glencoe were something else.
Mountain climbing
The second day was another full day of riding. This time, we had planned to take on the infamous Applecross Pass. I'd say the best way to describe it is as Scotland's take on the Stelvio Pass on the Swiss-Italian border. It was so much fun, particularly with the weather on our side. That said, I can easily imagine that it would be quite scary in rough conditions, especially considering the steep inclines and single-track roads. It was particularly daunting for me as I'm only 5ft 4 – quite small compared to
the Shire horse-sized bike I was riding! But getting over to the other side of pass without even a wobble left me feeling rather proud of myself.
As soon as we'd made it to the summit, we travelled across a rather impressive bridge on our way to the Isle of Skye. There, we visited Portree to wander around the town. I'd love to return to Skye, as I get the impression we only scratched the surface of this amazing place. After Skye, we started to head back to the hotel in Gairloch, where we had a second night booked.
Having racked up a total of 700 miles on the first two days of our trip, we decided to move on to the Caledonian Hotel in Ullapool to spend a relaxing day there. Ullapool is a lovely, quaint fishing town, but it still has quite a lot going on. There are tonnes of eateries, places to buy ice creams, sea views and boat trips. On the way up from Gairloch, the roads were sensational – fast and flowing. Pulling into a large layby to admire the views, we were joined by a group of Porsche Carreras who'd obviously had the same idea. There were seven of them, and my goodness they sounded  naughty! We decided to let them go ahead, as we thought they might want to play and we didn't fancy feeling hunted.
They certainly didn't hang around, but such is the beauty of the motorcycle that once the traffic got heavier, we nipped past them again, gave them a thumbs up and cracked on to Ullapool.
Arriving in the town, we immediately hopped on a boat for a trip out to the Summer Isles. The sun was blazing and the dolphins were jumping. I think we counted 20 playing with the boat and showing off for us – it was a magical moment. After the cruise, we checked into the hotel.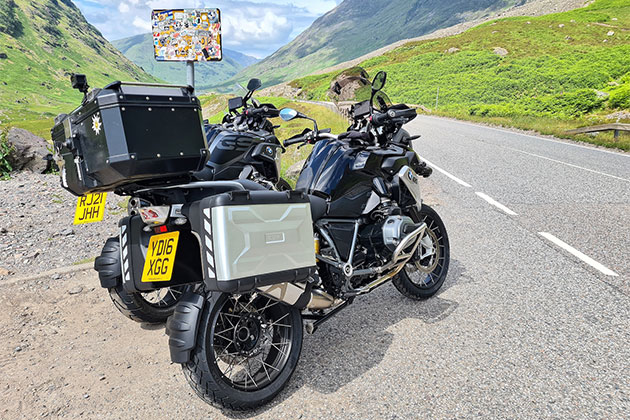 Northern tip
After breakfast the next day, we packed up our panniers and headed north to Durness, along mile upon mile of beautiful roads. We wanted to sample the hot chocolate at a shop called Cocoa Mountain in the village but, contrary to what Google told us, it was closed on arrival. Boo! Instead, we pushed on to John o'Groats. As a biker, there really isn't much to do at John o' Groats, but it's one of those boxes that you need to tick off if you haven't already been there. You need your photo taken with the signpost at least once – bikers will understand!
After spending the night at a quaint B&B in Thurso, we set off down the A9 with the Cairngorms National Park in our sights. The road is known for its incredible scenery, but unfortunately we encountered the thickest fog imaginable. I could barely see Mike's lights ahead.
After safely reaching the Cairngorms, we rested up and hit the roads again the next day. It's somewhere you need to visit as a biker – it's as if the roads were made for two wheels. If you're in that area, go and get your breakfast at Tea @ the Shee in Glenshee. It's a wonderful spot to sit and have a cup of tea while gazing out at
the mountains.
All in all, we totalled just shy of 2,000 miles in eight days and had a wonderful time. Since our return, many biker friends have asked for recommendations of the best roads to ride. The truth is there aren't any bad ones: just hop on your bike, go and get lost, and I guarantee you're in for a scenic Scottish adventure.
If you've had a journey that has changed your life or made a lasting impression, email james.scoltock@thinkpublishing.co.uk to feature.
This is an edited extract from IMI's new MotorPro magazine, received free as part of IMI membership. Time to find out more about becoming a member of the most influential community in UK automotive…?