The day I went west in a Polish Fiat

Automotive adventurer and Fiat specialist Jim Magill recalls his North American adventure in a tiny Fiat 126 as he headed to the annual Fiat Freakout in Detroit
It's 30 years since my little Fiat 126 rolled off the production line in the Polish city of Tychy, but the technology behind its 23bhp air-cooled engine and leaf springs is far, far older than that.
At times on my epic 4,500-mile drive from Warsaw to the site of the largest Fiat festival in North America, the car felt so antiquated and alien that it might as well have been from another planet. But when you forget its crude design and unreliability, you start to wonder whether something precious was lost when we said goodbye to cars of this light, simple and cheap.
A few months previously, a friend in Warsaw had asked if I would be interested in his grandfather's Stanislav's Fiat, or – as they're known in Poland – his maluch, meaning "toddler". The name is certainly appropriate, considering how they toddle along the highway, innocently courting instant death in modern traffic. But at just £150, I couldn't say no, even if the last thing I needed was a car with the power of your average ride-on lawnmower.
Suffice to say the Fiat needed a little recommissioning. But about eight weeks of work and £500 later, I had a fully functioning automobile in my name and a flight booked from the UK to the Polish capital to see Stanislav. When we met on a Sunday morning at his apartment, I was a little nervous. He has lived quite a life, having been born in a democracy, lived through fascism, embraced communism as one of the infamous globe-trotting Polish engineers, and then retired into a democracy. And having spent more than 4.5 million zloty on his little Fiat 126 in the late '80s (and waited eight long years for it to be delivered), he had clung onto it for decades – until his failing eyesight no longer allowed him to drive it.
His English was not the best, but just before I left, he said, "I fly over the United Kingdom many times, I see many fishing boats!" "Really?" I asked. With a glint in his eye, he added: "I fly to Cuba, we build missile silo to attack America."
With that, I set off back across Europe in the Fiat, only troubled by a broken fan belt and the worst hangover of my life in some German town where the alcohol was cheaper than water. Once I'd sobered up, I made the little Fiat legal for UK roads and prepared for the next part of the adventure. I'd be heading all the way to Detroit, Michigan to take part in the largest Italian car event in the US: the annual Fiat FreakOut.
A few weeks later, I was dockside at Port Elizabeth, New Jersey, trying to explain to a Customs Officer that the bumpers were not made from contaminated Chernobyl steel, all while trying to get the baby Fiat hauled from the bowels of a ship by a bunch of port employees, all of whom were seemingly taking a union mandated two-hour smoke break just when I needed them. Keeping cool in the scorching heat and resisting the urge to recreate the Boston Tea Party with brand-new Chevy Sonics took every ounce of my patience, but the maluch eventually rolled up to the security gate about an hour later.
Out on the interstate, I found the Fiat even more of a challenge in America than it had been in Europe. It's slow. It's inefficient. It has mediocre steering, brakes and headlights. It doesn't have air-conditioning and it's 35°C outside. And I'm sitting in the right-hand lane of the interstate, roaring along at about 50mph, getting passed by people in 1980s pickups who look at you with such an extreme degree of surprise that it's clear they haven't overtaken anyone since they rushed home to find out who shot JR.
Pulling over for gas usually descended into an interrogation about where the car was from and how it had got there. This usually began with, "Hey, is that a Fiyought?" After a while, I could rattle off "Yes, it's a Fiat", "I bought it on vacation", "Yes, it's road legal" and "Yes, you can take a picture" while absentmindedly putting my PIN into the petrol pump. It was fun the first 15 times (the Fiat has a tiny three-gallon tank, so there were a lot of fuel stops between New Jersey and Detroit), but even I was left speechless when one guy came up and opened with:
"What sort of car is that?"
"It's a Fiat."
"Made by BMW?"
"No, it's a Fiat."
"Yeah, but it's a BMW."
"No, it's really a Fiat."
"Yeah, but BMW made them, right?"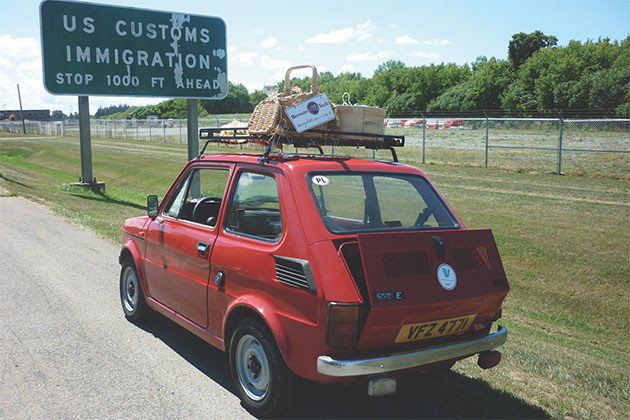 Detroit could not come soon enough, and all credit to the Fiat Club America, the FreakOut was an amazing show. The organisers had shrewdly linked up with the luxury hotel where the Concours d'Elegance of America was taking place, along with Sotheby's very glamorous line-up of metal in the same price range as a house.
For a little companionship, I parked up on the showground beside a Fiat Jolly that was pretty similar to my 126. Sadly, someone with a basket-weaving fetish seemed to have taken a tin opener to it. Later that weekend, it sold for more than $100,000, so I had high hopes that I might find a buyer for my little Polish immigrant.
On the final day of the show, I had just got of the car when I bumped into a Polish chap called Tomasz. He looked at the Fiat rather emotionally. Tomasz had worked at Fiat Poland until 1993, and decades later the last place he ever thought he would see one of the cars he built would be beside a fleet of sleek Fiat Spiders in Motor City. We chatted about this little Polish icon and, with a tear in his eye, he said, "Ah, I went to the airport in one of these when I left Poland. Is this one for sale?"
If you've had a journey that has changed your life or made a lasting impression, email james.scoltock@thinkpublishing.co.uk to feature.
This is an edited extract from IMI's new MotorPro magazine, received free as part of IMI membership. Time to find out more about becoming a member of the most influential community in UK automotive…?