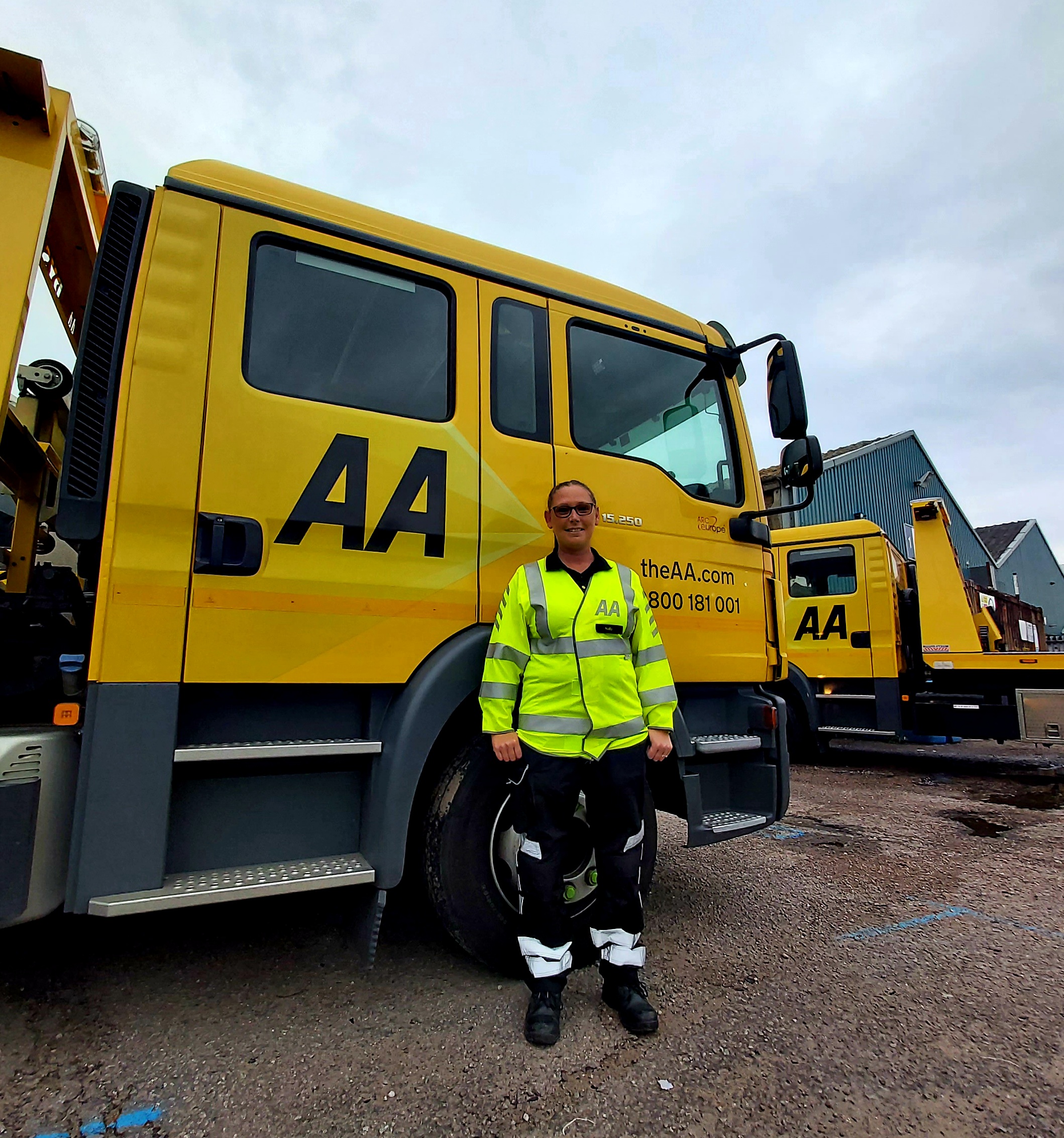 Patrols and recovery work might seem like a job for blokes, but these days it's open to all. Here's how Kelly Curran found her way to a career with the AA
Stranded motorists are sometimes surprised to see Kelly Curran arrive in her AA recovery truck, clamber out of its distinctive yellow cab and start dealing with their broken-down car. After all, if you or I were asked to describe a roadside patrol, most of us would probably picture somebody rather different to Kelly.
These background prejudices are extremely common, a hangover from a time when there were believed to be rigid rules about what jobs women could or couldn't do – and almost anything remotely technical fell into the latter category. "The majority of the time people are pretty shocked that I'm a woman," explains Kelly. "They're always like, 'Oh, it's a woman – wow. I didn't expect to see a woman doing a job like this.'"
Kelly is 34. Born in the '80s and raised in an ostensibly progressive age, she has enjoyed more opportunities than some of the women who went before her. But having worked in traditionally "blokey" jobs all her life, she has always been in a minority. "I used to work in a warehouse, driving a forklift truck for about eight years," she says. "Then I got made redundant, and after that I decided that I didn't want to go into a warehouse anymore. I thought I'd go for my HGV licence and see what happened from there.
"I worked for Müller Milk & Ingredients for about five or six years. I was primarily delivering to depots around the North West or even doing multi-drops to stores and supermarkets. I also did about a year at a logistics firm called A K Worthington, which handles prioritised goods going all over the place, so I was picking them up and dropping them off wherever they were needed."
More than just a job
Kelly's passion for driving has helped to take her further in her career. With almost a decade of experience under her belt, her interests put her in the right place to take on a new challenge.
"I've always liked to tinker with cars and motorbikes, ever since I was young," she says. "There's actually an AA guy who lives across the road from me. He's not on the recovery side, but he told me that the AA was looking for HGV drivers. I put in my CV, got an interview and in no time I'd got a job."
However, the road to becoming a fully-fledged AA recovery driver is far from smooth. "You do a two-week stay in a hotel and two full weeks of training. They put you through everything to do with health and safety, obviously loading and unloading vehicles, depending on what vehicle you've got to recover. They explain the different aspects of how you get away with potentially not having any keys for the vehicle, or if the steering lock is stuck on. There are so many different ways that we can approach different jobs to try to get vehicles recovered.
"It's quite intense," she adds. "All the training is definitely necessary for what you need within the AA."
Filling the gap
Driving HGVs is an extremely important but frequently undervalued skill. Now, as we face an urgent shortage of qualified lorry drivers, the UK desperately needs people to start training for this critical role. That means shaking off the tired stereotypes of the past.
And why wouldn't people want to become part of a recovery patrol team? There are huge positives, and Kelly appreciates what the job offers. "Being part of a close-knit team works really well for me as a female driver," she says. "Although there is plenty of well-placed banter among the recovery patrols, there is also a good level of mutual respect, which I find really refreshing.
"Another benefit for me personally is the fact that my roster seems to work well for my personal circumstances at this moment in time. If I was part of a less 'dynamic' operation, this may not be the case and could cause problems at home," she says.
Automotive workplaces are adapting, and more people are now coming into the industry, but there's still a lot that can be done to open it up to new talent. "We need a lot more advertising to get more women into roles like this," Kelly says. "You've got to think of yourself breaking down on the side of the motorway or down a dark street. If you're on your own as a woman, that can be quite scary. If a woman turned up to recover your car, you'd feel more at ease."
Now, more than ever before, women are beginning to fill the many vacancies in this sector – including the 40 or so AA recovery drivers needed across the UK. And with a good salary, full training and a sense of job satisfaction that's rarely found behind a desk, it's easy to understand why.
This is an edited extract from IMI's new MotorPro magazine, received free as part of IMI membership.