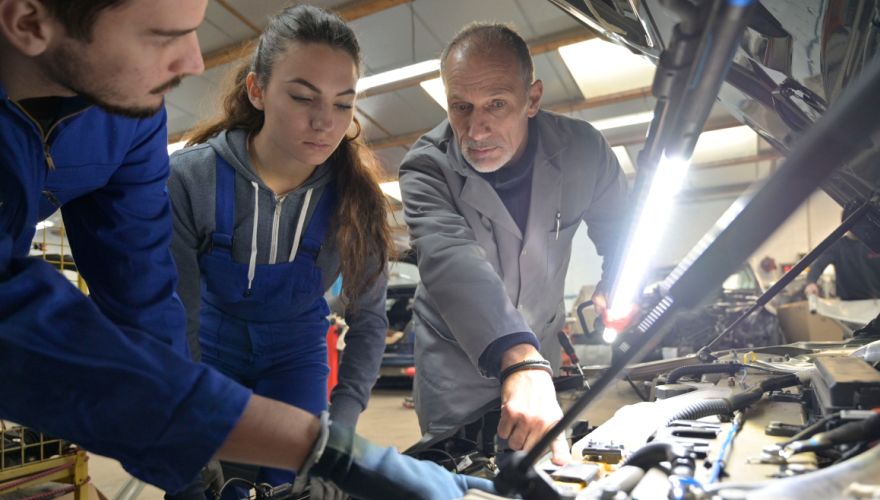 Since 1971, GTG Training has been providing high-quality training courses and education in a wide range of areas such as Business Skills, Computer & IT, Health & Safety, Transport, and Automotive Technical.
GTG was purchased by Arnold Clark Group in 2003, and now boasts three leading-edge training centres in Glasgow, Edinburgh, and the West Midlands. We provide training services to many of the UK's largest companies, including Arnold Clark Automobiles Ltd, major banks, public utilities, emergency services, the NHS, the MOD, and many local authorities.
With the approval of many prestigious bodies such as SQA, IMI, RHA, ILM, FTA, City and Guilds, and most recently BSC, GTG has cemented its position as one of the UK's most innovative, experienced, and qualified training establishments.
Since the very beginning, GTG Training has been committed to investing in skills, and in people. We recognise the importance of investing in the workforce of the future. That's why we offer a range of Modern Apprenticeship programmes that offer people aged 16 or over the opportunity to learn while they work.
As well as excellent training facilities, GTG offers flexible spaces for meetings, conferences, and events. Our contemporary venues have been designed to host events of varying sizes, so whether you're hosting a training day or a full conference, our dedicated team can cater for all your presentation requirements.
GTG has been working with the IMI for nearly 20 years and is the preferred awarding body for automotive qualifications. The level of support the IMI provides GTG with is unparalleled in the automotive industry. The IMI offers an extensive range of qualifications & accreditations that are designed to raise the standards in the Automotive Industry, which is also tied into what GTG training is trying to achieve within the Industry. We believe the IMI are the leaders in the qualification sector and are the obvious choice to partner with due to the level of support provided
The IMI has helped support GTG Training in becoming one of the leaders in offering training and assessment for the automotive industry. The products are continually updated and regularly reviewed for fitness of purpose. The level of support through center engagement visits and extensive communication updates allows us to operate with a high standard of compliance, leading to a high level of excellent customer service. New products in training material and a new venture with VOCANTO are helping us deliver the correct material that is all in one place and ensures we have confidence that the correct criteria is being covered.