UK Automotive Sector Baseline Report 2021
As a professional body, the IMI is dedicated to the advancement of the automotive sector which covers many different sub-sectors and occupations.
We believe that the automotive sector is a driver of innovation, employment and economic growth. People working in the sector need the most relevant, up-to-date skills and qualifications in order to progress – especially during times of intense change. The IMI's purpose is to provide, and continually evolve, the means by which people working in the automotive sector can attain relevant, professional competence and appropriate recognition.
The automotive industry is still the beating heart of commerce in 2021. It contributes £36 billion, or 2.6%, to the UK economy yearly and has shown sustained growth for over 20 years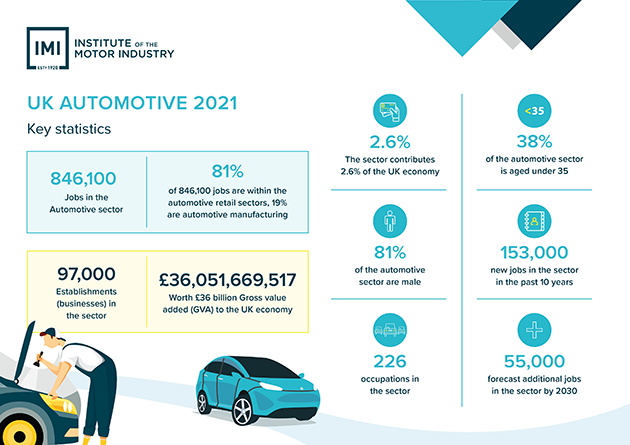 The sector provides over 846,000 jobs to the UK economy with over 682,000 coming from sub-sectors outside of manufacturing; 153,000 of those jobs were created in just the last ten years.
It's no overstatement to say that the industry is thriving, with a predicted 55,000 new jobs in the sector by 2030, and new exciting emerging occupations.
The UK Automotive Sector Baseline Report 2021 seeks to give an overview of the current automotive labour market. The report gives a view of industry, occupation and job postings throughout the 4 nations and gives us a full, contextualised view of the automotive labour market.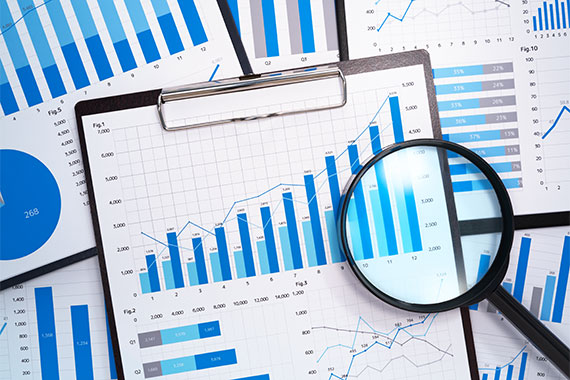 UK Automotive Industry - 2021 Baseline report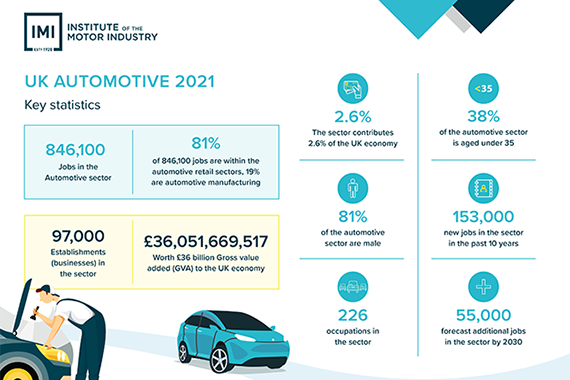 UK Automotive 2021