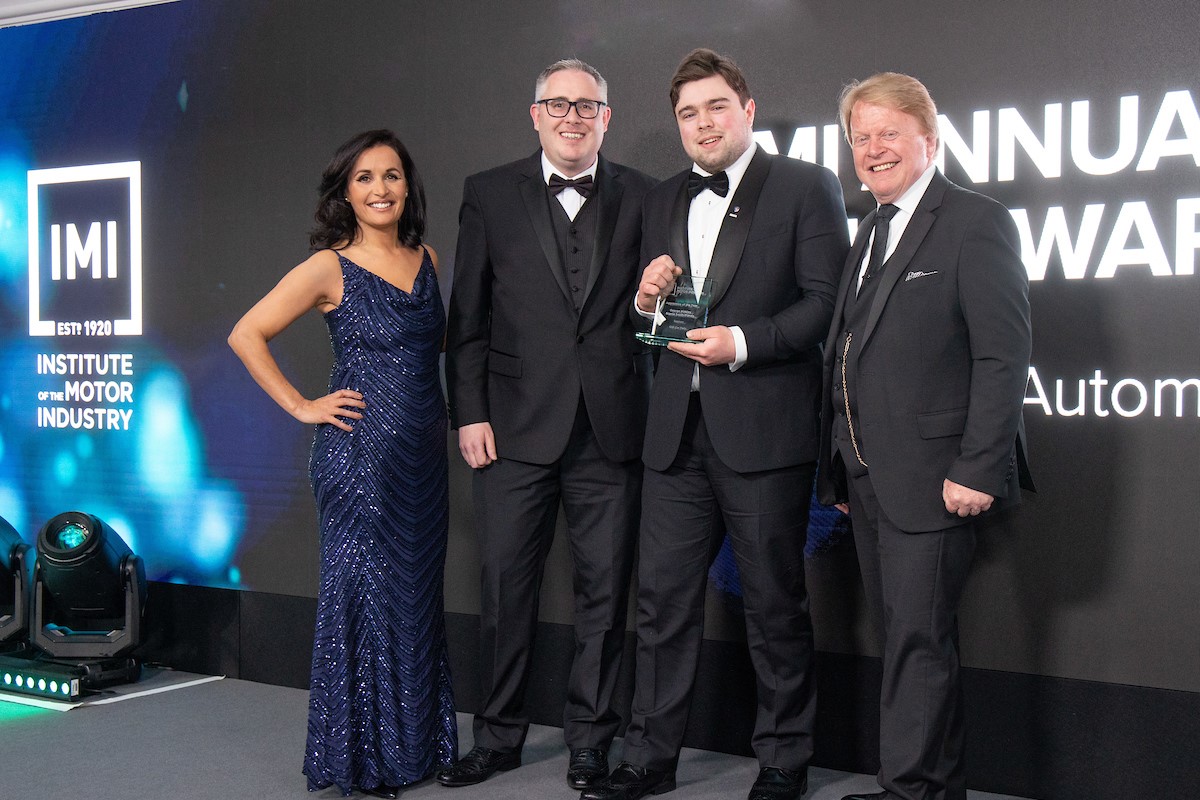 Apprentice of the Year Award winner 2023
George Hinkley, an employee of Scania GB in South Mimms, and Remit Training Apprentice has just achieved his HGV Apprenticeship standard with the IMI in October 2022.  As a young adult, aged just 19 years old, George is the epitome of an outstanding employee and learner continuously demonstrating unparalleled maturity, passion and dedication to his own career which is evidenced through his commitment to both personal and professional development as well as achievement.
In the last 12 months, George has been awarded several prestigious accolades from industry in recognition of his knowledge and behaviours but also his natural talent and skills in automotive engineering and technology, a love affair he has and skills he has tirelessly honed since being a child.
George competed in the Scania Apprentice of the Year competition of 2022, pitted against the finest Apprenticeship talent Scania has to offer. After a series of complex skills tests and tasks was crowned the overall winner.  Aaron McGrath, Head of People Development at Scania, was not surprised by the result, as George's talents were clear to see from the outset, adding:
"He is an absolute machine. When the four finalists arrived on the day, George was just running off facts and figures about the older vehicles. He is like an encyclopaedia for Scania. Regarding the tasks, he was head and shoulders above everyone else. If he's interested in something, he wants to know every detail. He loves the brand. He loves his job. I'm excited to see how he does in the future."
George was simultaneously competing in the prestigious UK World Skills heat events which he started in May 2022.  Having won his heat, George proved his talent, beating the best apprenticeship talent from across the UK to win the Gold Medal in Heavy Vehicle Technology. George will now come up against his most likely rivals, representing the UK team in the International World Skills event in Lyon, France in September 2023.
Despite all the distractions of these awards ceremonies of 2022, George has been working hard to successfully complete his own qualification. A culmination of three years of hard work, drive and dedication, he was awarded a Distinction for his Heavy Vehicle Apprenticeship standard, following an outstanding EPA in October 2022.
Both Remit Training, his training provider and Scania GB, his employer could not be prouder of what George has overcome and achieved so far.  It is an early indication of the bright future he has representing and adding value to the industry he loves, in the many years to come.
There is no doubt that a valuable ingredient to George's continued success is his relentless approach to his personal development.  His Trainers and colleagues have all witnessed his natural disposition to stretch and challenge both himself, his mentors and his peers, going above and beyond to research and then harnessing as many skills as he can.
George has been inquisitive about vehicle technology and engineering since being a child, using his spare time during school holidays to help out at the local bus company, supporting technicians to both diagnose and fix problems.
Alongside diagnosing and fixing trucks, buses, coaches and industrial engines, he continues his passions at home in his spare time.
Here are some of the projects George is currently working on...
Nuclear Physics – the desire to understand how different technologies work, George has a passion to take his understanding of physics to another dimension. A passion that started after researching the infamous Chernobyl nuclear disaster in 1986.
Restoring a Land Rover Defender – a vehicle which has played a major role in George's life. It's the car he learnt to drive and pass his driving test in, and now it's receiving some much-needed TLC. He is completely restoring the vehicle from repairing the chassis and replacing the engine to creating a custom wiring loom.
Model Scania truck – by having such an intimate knowledge of Scania's vehicles, new and old, George is keen to recreate an original Super vehicle – the LBS76 with a lifting tag axle, detail-by-detail. This means designing a custom engine and gearbox, as the original units couldn't be scaled down accurately enough.
Model Steam Locomotive – with a passion for steam, George was keen to create a model steam locomotive. He has already made some initial drawings, but with the Land Rover project taking up most of his spare time, this project is on hold for the time being.
As passionate as George is about diagnosing and fixing vehicles, and diesel and steam engines, there's another strength he has. One that he's learned to harness. George explains his autism and how he uses it to his advantage.
George himself explains his interest is in the history and foundations of the vehicle, not just in the engine, "Ever since secondary school, I've just been addicted to researching technologies, such as the diesel cycle, different mechanical parts and discovering how it all works. When I discovered Scania's technical information library a few months ago, I sat down and read all the manuals for 2 and 3 Series in one go. I can probably rebuild one from memory as I sat there for three days just reading the manuals."
Such an impressive portfolio of CPD and achievement is an outstanding accomplishment for any learner, and George, a neurodiverse individual with autism, is an inspirational role model to all young people on what can be achieved with hard work and dedication.
Fully understanding how his mind works and learning to deal with certain situations from his time at school has allowed him to focus his energies on his passions and strengths.
"I wouldn't call my autism a disability," he says. "In my case, I would call it an advantage. It's quite simple, really, I've learnt to forget the negatives and focus on what I love. And for me, that is fixing trucks."
George has gained value from his apprenticeship programme in more ways than one, giving him confidence and an opportunity also to enhance his soft skills as well. "This apprenticeship has improved my people and social skills… my journey has been a bit different than others due to my autism, but this shouldn't disadvantage anyone from doing anything they want to do"
George's talent is well known amongst his peers, and he's not afraid or unwilling to share this with those peers who may be struggling.  George is a go-to person for other apprentices due to his knowledge of HG vehicles as well as the Scania brand; this has been witnessed by the Remit Tutors whilst George attended the Scania Training centre.
The support that George offered the other students was very refreshing but also to a very high standard due to the level of study George always puts in on his own time. George would spend a lot of time during the college blocks working with other students and tutors, passing on the knowledge that he has studied since his last college block.
Georges work colleagues speak very highly of his knowledge and work ethic as he very rarely wants to take time off work and will always work until the job is finished regardless of time. George always sees his work tasks through to completion and to a very high standard. His managers and directors speak very highly of George and have seen him as a key member of their team from early on in his apprenticeship. As an employer, they have played a key role in supporting George in his studies and continue to support George through the competitions that George has entered over the last 12 months.  
George is a role model to all apprentices in the automotive industry.  He provides a shining example of the myths that need to be busted around the value that neurodiverse learners can be bring to employers and the future of automotive and we are convinced this is only the start.
As noted above, George has achieved his HGV standard at the distinction level and also won several national-level competitions within his own employer network and the national sector. This level of achievement is none other than remarkable for George and is widely celebrated by both his employer and Remit as his training provider.